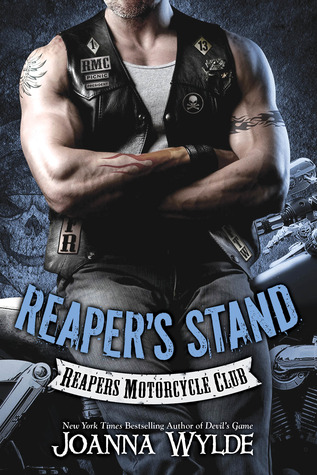 Reapers Stand
As Reapers Motorcycle Club president, Reese "Picnic" Hayes has given his entire life to the club. After losing his wife, he knew he'd never love another woman. And with two daughters to raise and a club to manage, that was just fine with him. These days, Reese keeps his relationships free and easy—he definitely doesn't want to waste his time on a glorified cleaning lady like London Armstrong.
Too bad he's completely obsessed with her.
Besides running her own business, London's got her junkie cousin's daughter to look after—a more reckless than average eighteen-year-old. Sure she's attracted to the Reapers' president, but she's not stupid. Reese Hayes is a criminal and a thug. But when her young cousin gets caught up with a ruthless drug cartel, Reese might be the only man who can help her. Now London has to make the hardest decision of her life—how far will she go to save her family?
My Review
Okay, first I want to put out disclaimer: I Do NOT read any type of motorcycle club type books  at all simply because I am OBSESSED with a certain MC style T.V. Show featuring a very hot and dangerous Jackson Teller and I feel that NO ONE can stand up to him in print. Well slap my face and call me a Clubslut because Reapers Stand has stood up and fed more into (if that's possible) my obsession with MC type shows and now books!
 I had never read anything By Joanna Wylde and I had no idea that RS was even in a series of books until about the third chapter. This book can be read as a stand-alone totally and completely and while I want, no make that WILL, go back and read the other books before RS I was still thoroughly hooked on this one.
Reese 'Picnic' Hayes is the president of the Reapers MC club and has been content with bedding wiling women left and right since the love of his life and mother of his two grown daughters died from cancer. He just had a birthday and is enjoying a rather gracious birthday gift from his Srgt at Arms officer when the cleaning lady he has been eye humping since he met her a few months back walks in asking for a favor. He sees this as the perfect opportunity 'work her' out of his system.
London (love the name) is an independent women, as in 'I got a job and I got money so I don't need a man to take care of me' independent. What she needs is to find her bratty ass second cousin(who is more like her kid) and drag her way from the wild party the MC is having before she gets pregnant! She sees Reese enjoying his birthday gift and is immediately intimidated by him. In exchange for her favor of helping finding her cousin she agrees to be at Reese services, cleaning services that is and when the attraction between them gets boiling hot and neither can take it anymore it explodes like Hiroshima!
But someone begins to pull London's strings and now she has to decide, loose someone she loves or loose someone she loves! Tough choice.
This book kept me up reading well into the night, and not just because the sex scenes were amazing, no it was the way J Wylde wrote these characters so thoroughly and the humor had me in stiches. It wasn't the in your face funny but more the subtly sarcastic kind. I just could not get enough and when it was over I was very much
I have put the other Reaper books on my TBR list and maybe moved them up a few notches too, because while this book can be read as a stand-alone, there are characters that intertwine in this story and had me wondering what happened with them.
Well Done Joanna for furthering my obsession!
5 out of 5 stars!
BookBesties