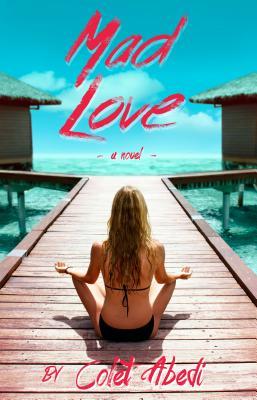 Buy on Amazon for only $3.99!
I don't understand the mixed reviews of this book, I for one loved it. Sophie is a breath of fresh air and I loved her inner dialog about as much as her outer. She says and think things that are so totally real life, I had to realize that she was not me!
I loved Clayton right away, even the 'wolf' part of him and fell in love right about the same time Sophie did. I found myself saying,"I want to be like Sophie, she's hard-core, she swims with sharks!' to everyone I came in contact with and having them look at me as if I were insane. The things about Clayton and his past, childhood, adulthood are shocking to Sophie but it wasn't so much to me and the ending…that left me heartbroken and although I knew it was coming, she knew it was coming I wasn't prepared for it and I swear if there is not another one in the works I will hunt down the author Misery style. (maybe not, but still).
This was my first book by Colet Abedi and I must say that I was very surprised and loved it!
Colet was awesome enough to do a Q&A with me!
 Thank you so much for agreeing to do this Q&A. What made you decide to make the jump from entertainment to author?

Thanks for letting me stop by! Since I was thirteen and read my first romance novel I knew I wanted to be a writer. I wrote a few screenplays in my early twenties then got a break and was head writer on two telenovelas for Fox's MyNetwork TV. I took a different route to get to my dream of writing romance novels but I believe every experience I've had in entertainment has made me a stronger writer. So I'm really grateful for it all.
That's great,  the thing I love most about Mad Love, was the detail in description about the Maldives Islands, It made me want to waste my savings and go swim with sharks!  Have you ever been? If not what made you pick that island for the setting?
I went to the Maldives for my honeymoon and fell in love. I remember staring out on the ocean and thinking it would be the perfect setting for a romance novel. I think that's when I started to dream about Sophie and Clayton's story.
I wasn't even aware there was a Maldives island until this book, and the fact that you have seen such beauty is amazing! You were a new author to me and upon reading the first chapter I was hooked and finished it really fast. How long did it take you to write?
Thank you so much! That's the best compliment ever. I wrote Mad Love in about nine months because I was also working on a YA Trilogy with my sister so my time was split.
 Being in the entertainment industry is it any different than the writer industry?(i.e. more enthusiastic fans, or more time to yourself)
I think both industries are very similar. They're both about entertaining people and working your butt off to put the best product out there. But I have to say the fangirls and the enthusiastic response to your work as a writer is a lot more gratifying.

I'm such a pro at Fangirling!  What do you like most about being an author? Least?
I
love escaping to another world. I can just let go and live a different life for hours at a time which is nice to do sometimes. I don't have a least favorite part about being a writer. I just consider myself incredibly lucky to be living my dream so I'm very thankful. If I'm in a crazy head space and feel pressure I just try to remind myself all those times when I would pray that I would publish a book. So I just give thanks.
I think you're readers just love that we get to escape with you into your world! Now some fun random facts that I like to know about authors, see what makes them tick.(Not really)
Random Fun facts:
Thing you CAN NOT leave the house without:
Lotion. I'm a crazy lotion person.
Favorite Color:
Blue
Favorite swear word:
Fuck
First ever job:
Assistant to an attorney
Favorite song on the radio right now:
Coldplay's Magic 
Thanks again so much Colet for letting me get to know you more, you are definitely on my list of Authors to read more of!
Bookbesties