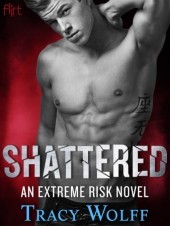 Ash Lewis has poured every last ounce of his blood, sweat, and tears into reaching the very top of the professional snowboarding world—until the unthinkable happens. After the biggest competition win of his career, Ash's mother and father are killed in a tragic accident. Unable to handle the idea of going back out on the snow to pursue the dream his parents shared with him, Ash feels that he has no choice but to walk away from snowboarding forever. Then he meets Tansy Hampton.

Wild, fun, and impulsive, Tansy has a different look and a new passion every week. As a cancer survivor who spent the past several years waiting to die, Tansy has a fresh perspective on life—even if she doesn't have a clue about what she actually wants to do with it. But she's determined to find out, and that means making the most of her time while she still can.

From the very beginning, their chemistry is intense. But while Ash can't stop chasing the ghosts of what can never be, Tansy stays firmly focused on the possibilities the world holds for her—and for them. She's already picked up the pieces of one shattered life. Now she's determined to help Ash do the same.
Review
After falling love with Tracy Wolff's Extreme Risk Novel Shredded and the way it left off, I couldn't wait for Ash's story. And man what a story it was! Ash Lewis was the perfectionist of his little group of extreme snowboarding buddies. Always had a plan and knew what he was going to compete in the X-games and then the Olympics and medal. All that was shot to hell when Ash gets a call saying his parents have been in a car accident and the only survivor is his fourteen year old brother who is paralyzed from the waist down. Ash see's no choice in his life, now being the legal guardian of his brother than to push all his plan's away and hang up snowboarding to take care of his brother.
Until he meets Tansy who is everything the old Ash would have stanched up in a heartbeat, but the new Ash is having a hard time pushing her away. Especially when she ask him to compete a wish for the Make-a-Wish foundation for Timmy, a teenager who will not live to see his next birthday and all he wants is to see his idol Ash snowboard. How can Anyone say no to that right? Well Ash had no problem
Tansy just isn't some girl who works for dying children, no she once was one of the dying kids. Fresh of out remission from a deathly cancer that I can even begin to spell or pronounce she has spent all of her formative years(10-19) in and out of hospitals, never having had experienced all the world has to offer. Now, Tansy is trying to find herself and no longer wants to be 'Cancer Girl', dying her hair and wearing different looks in hope to find out who she really is.
When her and Ash are thrown into a trip that he was basically tricked into by his brother, they set off to make Timmy's dying wish come true and discover things about themselves that was left me crying and laughing.
The story started out with Ash in such a self-loathing spiral I wanted to slap him stupid and yell at him with the way he was treating his brother. I identified with Tansy on such a level that I found myself empathizing with her and having lumps in my throat when she did. He feelings and why she felt them were so real it made my heart ache and please don't get me started on Timmy! the small part he playing in the book left such an impact on me that I cried when it was his last scene(this not to say that he died, that was never said). Just the fact that it was never hidden that Timmy was going to die, otherwise he wouldn't have been on the Make-a Wish list and the fact that his is a reality to some little kid somewhere made it that much more heart breaking.
This book cause so many feels, by the last five chapters I was a mess!
I Don't know how Tracy does it, but I have never had such a fascination with snowboarding than I do after reading her Extreme Risk books, this one not being any exception. Now excuse me while  I Google hot snowboarders…for research…
4 out of 5 Stars
Bookbesties